இதுவரை வெளியான மின் புத்தங்கள்
இங்கே
மற்றும்
இங்கே
செல்லுங்கள்.
நீங்களும் விரும்பிய மின் புத்தகத்தை பெற
இங்கே
வாருங்கள்.
Mastering Microsoft Visual Basic 2010
The new edition of the ultimate comprehensive guide to Microsoft Visual Basic
]]>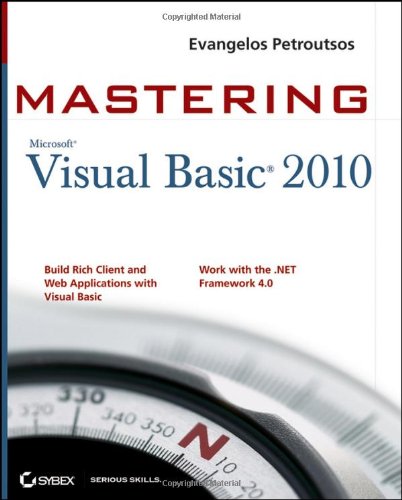 Where most VB books start with beginner level topics, Mastering Visual Basic 2010 vaults you right into intermediate and advanced coverage. From the core of the language and user interface design to developing data-driven applications, this detailed book brings you thoroughly up to speed and features numerous example programs you can use to start building your own apps right away.
Covers Visual Basic 2010, part of Microsoft's Visual Studio integrated development environment (IDE), which includes C#, C++, Visual Web Developer, and ASP.NET, along with Visual Basic
Explains topics in the thorough, step-by-step style of all books in the Mastering series, pring you sample instruction, tips, and techniques
Helps you build your own applications by supplying sample code you can use to start development
Includes review exercises in each chapter to reinforce concepts as you learn
All the books in the Sybex Mastering series feature comprehensive and expert coverage of topics you can put to immediate use.
Starting Out With Visual Basic 2012
In Starting Out with Visual Basic 2012 , Tony Gaddis and Kip Irvine take a step-by-step approach, helping readers understand the logic behind developing quality programs while introducing the Visual Basic language. Fully-updated throughout, the 2012 edition also includes an extensive set of Video Notes, including walk- through of many of the in-chapter tutorials. Each new student edition comes with a Visual Basic 2012 Express software package.
Start Here! Learn Microsoft Visual Basic 2012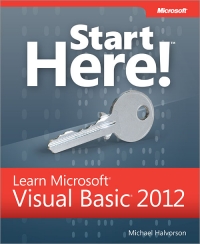 Learn the fundamentals of modern programming with Visual Basic 2012 and begin building your first Windows 8 apps for the desktop. If you have absolutely no previous experience with Visual Basic, no problem simply start here! This book introduces must-know concepts and techniques through easy-to-follow explanations, examples, and exercises.
Author: Michael Halvorson
Title: Start Here! Learn Microsoft Visual Basic 2012
Publisher: Microsoft Press
Year: 2012
Format: PDF
Professional Visual Basic 2012 And NET.4.5 Programming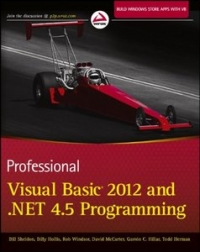 After a quick review of the of introductory topics of Visual Basic 2012 and .NET 4.5, this book moves quickly into advanced topics such as data access with ADO.NET, security, ASP.NET web programming with Visual Basic, Windows workflow, and threading. You'll explore the essential Visual Basic 2012 functions you need, including .NET features such as LINQ, WCF, and more. Plus, you'll examine exception handling and debugging, Visual Studio features, and deployment.
- Puts the new Async keyword and Iterators to work
- Explores new options and interfaces presented by Windows 8 development and WinRT
- Continues strong coverage of core language elements and tools and creating componentized applications
- Details the elements of a .NET application and discusses how to create your own namespace
- Addresses implementing inheritance and creating an abstract base class
- Highlights advanced language concepts such as lambdas, iterators, and async keywords
- Reviews designer concepts and the Win8 client
- Discusses assemblies and reflection, parallel programming using tasks and threads, and deployment
- Looks at XAML syntax, using XAML to create a window, and creating a WinRT XAML application
Book Details
Paperback: 912 pages
Publisher: Wrox (January 2013)
Language: English
ISBN-10: 111831445X
ISBN-13: 978-1118314456