முன்பு பகிரப்பட்ட மின் புத்தக்களின் தொகுப்பு:
இங்கே
and
இங்கே
நீங்களும் விரும்பிய மின் புத்தகத்தை கேட்க:
இங்கே
தொழிநுட்ப உதவிகள் மற்றும் விசாரணைகள்:
இங்கே
101 Excel 2013 Tips, Tricks and Timesavers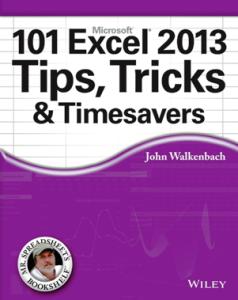 Get the most out of Excel 2013 with this exceptional advice from Mr. Spreadsheet himself!
Excel 2013 is excellent, but there's lots to learn to truly excel at Excel! In this latest addition to his popular Mr. Spreadsheet's Bookshelf series, John Walkenbach, aka "Mr. Spreadsheet," shares new and exciting ways to accomplish and master all of your spreadsheet tasks. From taming the Ribbon bar to testing and tables, creating custom functions, and overcoming "impossible" charts, mixing nesting limits, and more, 101 Excel 2013 Tips, Tricks, & Timesavers will save you time and help you avoid common spreadsheet stumbling blocks.
If you're already using Excel on a regular basis but know it has capabilities you haven't tapped, open this book and let Mr. Spreadsheet open the door to a new range of Excel 2013 possibilities.
Let Mr. Spreadsheet show you how to:
- Generate a list of filenames or sheet names
- Avoid font substitution for small point sizes
- Edit formulas in dialog boxes
- Use Flash Fill to extract or combine data
- Save shapes, charts, and ranges as images
Mastering Digital SLR Photography
The world of digital SLR photography has changed incredibly in the six years since I wrote the first version of this book in 2005. So, this Third Edition for 2011 is virtually a ground-up overhaul, with six new chapters and a stem-to-stern refreshing of every other topic I covered the last time around. There are now full chapters on Travel shooting, People/Portrait Photography (with lighting diagrams), Photographing Concerts and Performances, Scenic, Wildlife, and Nature Photography, Action Photography, and Macro work.
Laptop Repair Complete Guide; Including Motherboard Component Level Repair!
This book will educate you on the Correct Process of Repairing The Entire Laptop, Including and concentrating more on Motherboard Repair Instruction, Screen Repairing, Component Level Diagnosing and Repairing. This is the 3rd Book Released By Author Garry Romaneo, The Worlds Leading Laptop Repair Technician, Author, and Consultant. The book will take you through the laptops disassembly process, Explaining in detail how to disassemble all laptops. You will then be taught all about Liquid Spills to Laptops. What to do, What not to do, How to Remove Liquid and How To Repair Any Damage from Liquid to parts or components. You will be shown all the various tools to be used in laptop repair both hand tools and electronic tools explained. This book will then explain the entire upper end repairing techniques. Replacing screens - how to- then it will show you in great detail how to disassembly the screen and repair or replace the LCD ccfl Bulb, the book will also discuss LED screens. You will be taught step by step how to solder a motherboard whether it is the components or the dc jack. The DC Jack Repair/Desoldering instructions are included. Most importantly, this book will teach you laptop motherboard repairing techniques. Learn to identify the parts and components on the motherboard, learn component replacement, motherboard testing techniques and more. This book also includes the authors Patented/Copyrighted and Trademarked Laptop Video Chip/GPU Motherboard Online Repair instruction. There is alot more included (Part Identification, Hard Drive Failure Issues etc...)so check it out now. Going Above And Beyond CompTia A+ Certification !!!